Vallourec - world leader in premium tubular solutions
Vallourec is a world leading manufacturer of seamless steel tubes and tubular products specializing in the most complex and highly demanding applications primarily in the energy sector as well as other markets. With over 20,000 employees and integrated manufacturing facilities and advanced R&D in more than 20 countries, across four continents, Vallourec offers customers innovative global solutions to meet the growing energy challenges of the 21st century.

Integrated provider of tubular solutions in North America
Vallourec companies in North America include Vallourec Star, V&M Tube Alloy, VAM Drilling, VAM USA, VAM Canada, and VAM Mexico.
Our companies have a reputation for quality products, exceptional service and constant innovation. To succeed in meeting the energy challenges of the 21st century, we invest in our employees. We offer a variety of career paths in an innovative, dynamic environment. Personal motivation and investment combine with numerous and individualized career opportunities in North America and overseas. With us, every employee has an impact and can make a difference.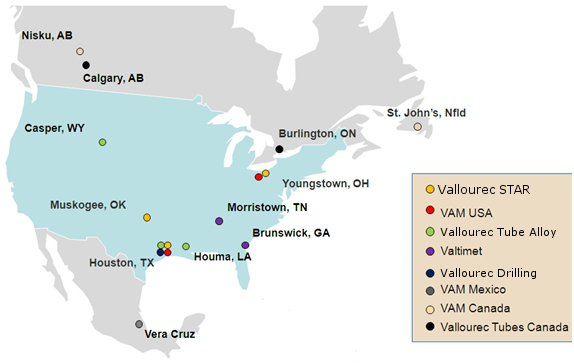 Our companies have manufacturing, service and sales locations across North America:
HOURLY POSITIONS
To begin the hourly position application process click here.

If you have already submitted an application you can check the status of your hourly job application and update your contact information by clicking here.

If you have already submitted an application for an hourly position you can update your resume or change a scheduling session by a clicking here.